Poppy Parsons, AIFD, CFD, CAFA
Floral Designer,Smart Flowers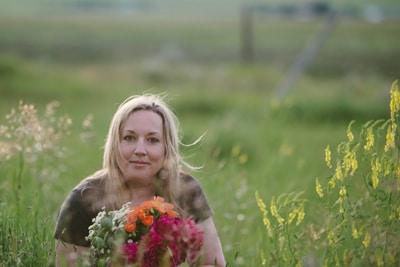 Poppy Parsons grew up in a small town; Hazlet, in rural South West Saskatchewan. Poppy lived right across the back alley from her Grandparents and spent much of her childhood playing in their garden. Poppy's floral training began while working at Smart Flowers in Swift Current in 1993 & 1994. After marrying the love of my life in 1994 she moved on to the financial industry, but I always knew that she wanted to own a flower shop. So, when the opportunity arose in the spring of 2007 to purchase Smarts Flowers, she jumped at the chance to fulfill that dream. Much of Poppy's inspiration for her floral design & floral art comes from the time spent checking cows, fixing fence, and helping Kelly on the farm. Her love of nature and flowers was introduced by her Grandparents and continues with the time spent in the pastures and hills of her 110 plus year old family farm. Poppy is proud to call Southwest Saskatchewan her home!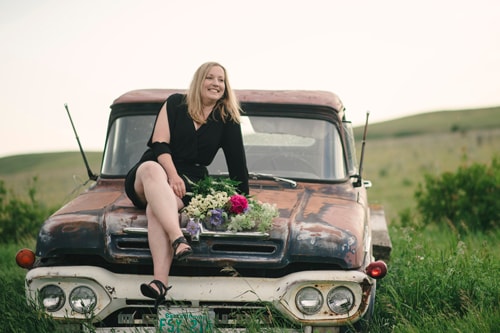 "I have become known in the area for my unique approach to design in weddings, sympathy and everyday floral arrangements, and for constantly learning, growing and presenting the art of floral design." Poppy

Poppy bought a well-established floral business; Smart Flowers, in 2007 in downtown Swift Current. Her professional florist & floral art career started when she achieved her Certified Floral Design (CFD) designation after testing with the American Institute of Floral Design (AIFD) in Miami in June of 2012. That same year she also became a member of the Canadian Professional Floral Design Association and of NeoFlora after designing in Vancouver. Poppy passed her Professional Floral Design Evaluation at the AIFD Symposium in Las Vegas July 2013 and was inducted into this prestigious association July 2014 in Chicago. Spring 2015 she passed the written exam for the Canadian Academy of Floral Art (CAFA) & design test later that summer and was inducted into CAFA April 2016. In 2021 Poppy started her continuing path of floral education and enrolled in the European Master Certification, completing her Foundation and Practicum courses, and being invited to attend the Advanced learning & testing session in Bruges, Belgium in fall 2022. .

Her passion for sharing joy with flowers has brought her numerous accomplishments and floral adventures. In October of 2014 Poppy was chosen out of over 150 applicants to be 1 of 5 floral designers to compete for the Canadian Florist Magazine "Inspired Design" contest and walked away with the title "Inspired Designer LIVE 2014". Poppy has volunteered on the fresh procurement team at AIFD symposium and has been a workroom helper for many stage presentations at symposium. Building on her teaching and mentoring career in March 2018 she had opportunity to design & teach in both Calgary and Vancouver. Poppy was a floral float decorator at the 130th Tournament of Roses Rose Parade Dec 26-Jan1 2018/19 and asked to return for 131st Rose Parade the next year! She was the Project Manager for the floral design team for final night gala for #AwakenAIFD2019 symposium in July 2019 Las Vegas. In August 2019 was 1 of 8 Canadian florist asked to the Hawaii Floriculture & Nursery Association (HFNA) flower grower tour in Hawaii. In 2020 and again in 2022 Poppy was chosen to be a feature Canadian Designers for the HFNA Wedding Celebration design webinar; creating bridal bouquets and wedding floral décor featuring Hawaii grown flowers and teaching other florists. Poppy was asked to return to be a floral float decorator for the 132nd Rose Parade in 2021 for "Dream, Believe Achieve" and will return for 133rd parade "Turning the Corner in 2022. July 2022 Poppy was on the lead team for the AIFD annual symposium "Roots" as the Processing Chair and will head to Chicago in 2023 to be on a main stage design team.

Poppy loves to travel and learn from many other floral artists across North America and has volunteered in many shows and conferences representing SW Saskatchewan everywhere she goes!